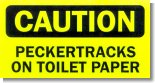 You, too, can own some
of these lovely stickers!
Details...

I am a huge fan of bathroom literature and bathroom art. You know those telephone numbers you always see on the walls? I call those numbers just to see if what it says about the person is true.

Most of the numbers on the walls are pager numbers. Normally, I page them to the local F.B.I. office or the vice squad. I get a big laugh out of doing this, unfortunately I don't get to hear the outcome.
---
I wanted to update you on my bathroom phone number calling spree. I saw a new number the other day in the Sears mens room and called it on my cell.
I talked like Butthead the whole time and the guy didn't even think it was strange. I guess if you're weird enough to put your number on a public restroom wall while trolling for penis, a guy with a voice like Butthead might kind of be a turn on. I actually had to cut the call short and hang up because I started laughing.
---
I was at one of the local bar hangouts one weekend, sporting a nice buzz. I had to take a wicked piss, so I find my way to the Men's room and start wizzin' into the urinal. I look up and begin to read the wall out of boredom. There, right in front of me, is the condom machine.
It's always been there as long as I've been a patron of the bar. But someone had scribbled something new right above the chute where the condoms come out. I lean in a bit (still wizzin') to read it:
"This gum is too chewy"
I was laughing so hard piss was flying everywhere but in the urinal!!!